We are The Goat Yoga –
Michigan's Premier Goat Yoga Studio
Located near Ann Arbor, The Goat Yoga is a family owned & operated Goat Yoga Studio that runs regular classes featuring yoga lessons from our top of the line instructor as well as, you guessed it, goats!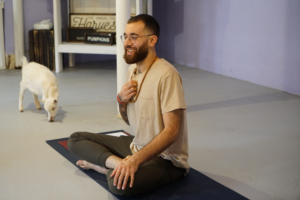 Ty Schmidt found his passion for yoga after attending yoga studios throughout Metro Detroit. This led him to Rishikesh, India, where he studied in the foothills of The Himalayas outside of Rishikesh Yogpeeth Abhayaranya. Ty has returned to Michigan to spread his teachings to eager students.
Classes run weekly and consist of a 30 minute yoga session followed by 15 minutes of relaxation, snacks, and beverages. Classes are instructed by Ty Schmidt and feature our 3 lovely goats. Ty teaches a type of Hatha and Ashtanga based yoga that will allow you to break free from your daily stress and improve mindfulness.
Come on out and meet our goats Magnolia, Sugar, and Cream. They are present during every class and love to hang out with our students.